SingularityU Spain Summit
Updating the future – An environment for inspiration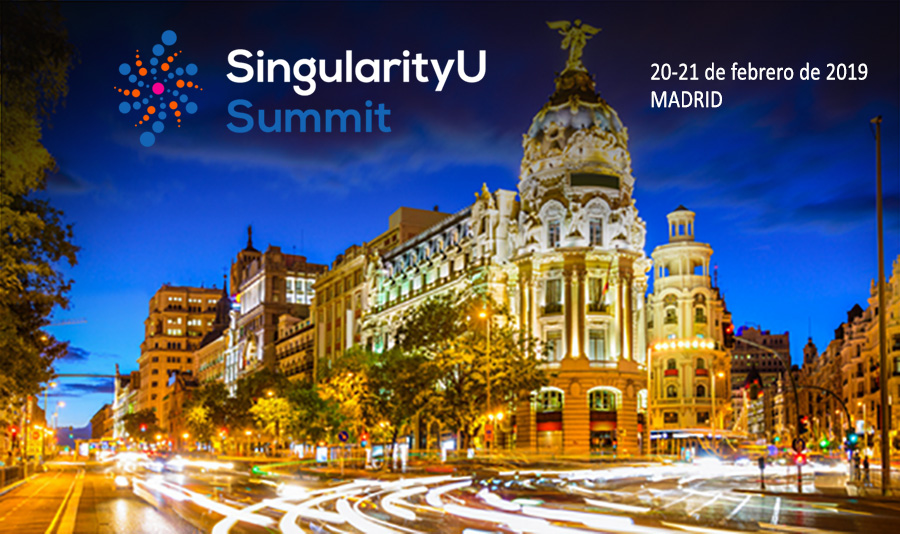 The SingularityU Summit 2019 was held on February 20 and 21 in Madrid, and I was there, enjoying the energy generated by everyone.
What is SingularityU?
Singularity University is an academic institution devoted to encouraging the investigation and exponential development of new technologies. Its purpose is to foster the application of new technologies on the resolution of the big challenges of humanity. It arises from the initiative of two entrepreneurs: Peter Diamandis and Ray Kurzweil, supported by Google and NASA. Located at the mythical Silicon Valley besides of academic activities, it holds summits in different countries.
The SingularityU Summit which I attended, was a two-day invitation to experience – hand in hand with experts from different disciplines related to technology, energy, automotive, construction, medicine- the far future that none of us will be able to know but that is just around the corner.
Who should attend?
Directors and entrepreneurs willing to rock the boat.
There were 800 people (general directors, innovation directors, human resources people and management positions) excited for understanding and grasp everything they showed at a hectic pace as the future they draw.
What did I take with me?
A wave of emotion and inspiration and the uncertainty of what we, 800 participants, are going to do with everything we've got. The question is: Now what? How will I contribute with my grain of sand for making this future become reality? I missed some landing between so much imaginary and our current reality, some concreteness on what attitudes and skills today leaders need to face in the future as it has been described here.
How does it connect with innovation?
After SingularityU Summit one wonders: How can I apply all this? What are the steps I should follow to incorporate something of what I have seen? That's where the applied innovation begins to unfold, when we ask what we should do to take advantage of an opportunity.
Technology is just the support for innovation; without people's attitudes innovation does not take place; without curiosity, creativity, imagination, naivety inherent to the question "and… why not?". In this Summit, we shared reflections on, for instance, where does the automotive world goes; we've seen that coming industry transformations -self-driving- will generate domino changes: reduction on accident rates, use of travel times. When travelling and time occupied are no longer an issue, people will consider relocating their homes to the city's outskirts, uncomfortable so far, and this will in turn, generate needs in these new areas…
A world of opportunities for innovation opens up in the face of any future transformation.
Why should we go to SingularityU Summit?
Every director seeking inspiration should attend Singularity, either the University or the Summit. It is essential to leave our comfort zone and gaze a possible tomorrow that stirs up our today. Because it is hopeless to get out from there without wondering how can I get closer to that future? How does this ever-changing world affect my compass? Where is the new north? When the Summit is over, what we know for sure is that tomorrow the north will not be where it is today.
What I would like to find in Summit 2020?
Two simple improvements:
Provide the event with more mental space for reflection; there has not been enough time to digest and share with other participants. The presentations go so fast! Almost unstoppable.
We had profited this adventure a bit more in a more appropriate physical space. The format of the event, with a hectic pace, and premises, did not invite to share the assimilation and reflection.
And now, two more complex improvements:
I missed getting closer to the distant future, listening (or discussing) on how all this affects the world; help directors to think about what we can do to go towards the far, disruptive and exponential future.
We heard about technology, energy, industry, systems, media… I wish I would have heard about people and new ways of working, of how to enhance the interpersonal relationships in companies of the future.
Challenging and reviewing so we remain being persons
I really enjoyed this Summit, and insist, every event that gives rise to questioning our present and future, that makes us review our dogmas and principles and that is based on the communication and knowledge sharing is necessary and we should appreciate it. This is food for our intellect and understanding of the society. Wondering, challenging and examining is what keeps us being persons.